Gay Inc USA:
Flurry of Futile Releases on IDAHO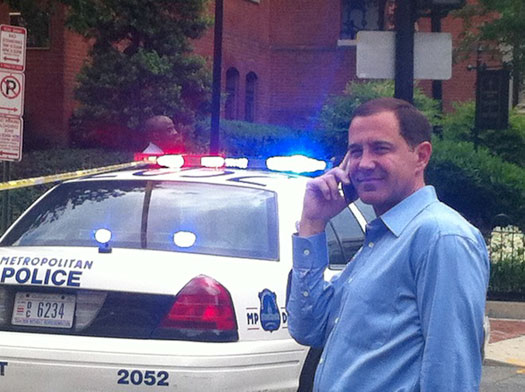 Let's have a look at how American LGBT advocacy groups large and small marked International Day Against Homophobia and Transphobia yesterday, judge how engaged they were from a visibility perspective.
The the Human Rights Campaign held a forum inside their Washington headquarters titled
The Road to Safety: Strengthening Protection of LGBTI Refugees in Uganda and Kenya
. It was cosponsored by Human Rights First, which issued a report that day with that title, Global Equality, and the United Nations Refugee Agency.
Neither the
HRC release
nor the story on the meeting from
Metro Weekly
list an actual LGBT refugee as among the invited speakers, nor does it appear any Ugandans or Kenyans were present.
I'll give the sponsoring organizations small credit for doing something, an event very much in their comfort zone. It's too much to ask these lobbyists and nonprofit researchers to get out of the suites and into the streets, say, in front of one of the many foreign embassies within walking distance of HRC.
Sure, address the needs of LGBT refugees, but don't forget the power of also picketing at embassies of government oppressing LGBT people.
The
Gay and Lesbian Alliance Against Defamation
observed IDAHO by writing a blog post, the
National Gay and Lesbian Task Force's
blog marked the day, while the
Truth Wins Out
blog commented on IDAHO actions in Italy.
New York City's Anti Violence Project sent out an email inviting everyone to attend a meeting at their office about bathroom safety issues for LGBT people. Nothing about IDAHO was posted on their site, but their
Facebook page
reported the meeting was their third in a series of such talks on the same issues and IDAHO is omitted from the post.
What about the
International Gay and Lesbian Human Rights Commission
, also based in New York? They issued a release recognizing the day.
From the
Human Rights Watch
site, we learn that one of their LGBT researchers penned an essay the day before IDAHO about how a UN official's video promoting gay love and tolerance get her arrested in St. Petersburg, Russia.
Not that HRC's organizing around IDAHO is any great shakes, the flurry of releases from the others shows the low importance they give to the day of global solidarity where many risk harm and being bloodied by taking to the streets to be visible. And designating an already-schedule in-house meeting does not impress.
All these groups in New York must be allergic to the hundreds of foreign consulates, trade offices and missions to the United Nation because the professional LGBT advocates could muster up a single public protest at one anti-gay government office.
Until I read a column at the Advocate, I had no idea the IDAHO committee had an American-based campaigns officer named Ryan Ubuntu Olson. He never reached out to us here in San Francisco, nor did he offer any assistance in attracting more folks or media to our May 17 action.
Based on the fact that he says nothing in his
Advocate piece
about actually staging an action himself, I can safely say he would fit right in at any of the Gay Inc groups mentioned.
If just the people at HRC making more than $100,000, or the top three employees and their executive assistants at the New York groups decided to stage a picket at an embassy or UN mission, there would be a decent crowd for the cameras and reporters to cover.
Out of the suites! Into the streets!