NYT, NY Review: ACT UPer Bill Dobbs,
Spokesman for Occupy Wall Street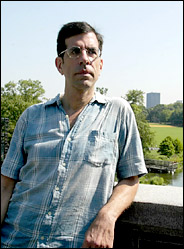 My friend from the old dark and deadly early years of the AIDS Coalition to Unleash Power, Bill Dobbs, has been an instrumental public advocate on nobody's payroll for decades in the gay, AIDS and progressive movements. He's been active on the ground at Zuccotti Park since it began and he's been my eyes and ears about the Occupy Wall Street movement from its inception.
Bill received excellent attention in an
article published last month by Michael Greenberg in the New York Review of Books
, as he articulated some basic truths about OWS and American democracy. Have a read:
Seeing me take notes, a tall, elegant, rather knowing man who looked to be in his late forties approached me. He surprised me by introducing himself with his full name—Bill Dobbs. (His e-mail address was "duchamp," a clue to his mindset.) He told me he had been an AIDS activist in the late 1980s, and for Occupy Wall Street he was involved in "outreach to the press." When I asked him to characterize the protest, he answered, "It's an outcry, pure and simple, an outcry that has cut through miles of cynicism." He knew, he said, that in the absence of identifiable leaders, I could talk to anyone in the movement and that they, in turn, could represent themselves in any way they wished without accountability. This worried him, but only slightly. It was one of the drawbacks of direct democracy, which, "as you can see for yourself works beautifully here on the whole." I mentioned Proposition 8 in California, an instance of direct democracy that overturned a state supreme court ruling that had legalized same sex marriage.
Bill nodded bleakly. He seemed unexcited about the union support. For years the unions had been organizing demonstrations that both the news media and the government yawningly ignored. The unions stood to benefit from the publicity at least as much as Occupy Wall Street. That this might in some way help the hospital workers, for example, did not seem something he had considered.
He seemed particularly scornful of the Democratic Party, elements of which were currently courting the movement. Paraphrasing Gore Vidal, he said, "There is only one party in the United States, the Property Party, and it has two right wings, Republicans and Democrats." How, with this view, he expected to get people into positions of power he did not say. He insisted that the only way to run an honest movement was to staff it strictly with volunteers. "As soon as you have not-for-profit organizations their main concern becomes how to keep themselves going. For us, it's different. No grants, no donors, no worries."
Thanks Bill, reminding OWS participants and supports of the incredible dangers of going the nonprofit route when agitating for social justice and democratic changes.
He was also quoted in
today's New York Times
about Bloomberg's ousting of the campers on Tuesday and curbing First Amendment rights:


"Occupy Wall Street can only grow," said Bill Dobbs, a spokesman for the group.


And if you click
here
, you'll see the extent of his work explaining the status of OWS, plans for civil protests in New York City tomorrow and showing the world OWS has a functioning press committee.
Good job, and keep it up, Bill!
(The photo of Bill accompanied a glowing profile of his work for the anti-Iraq war movement that appeared in the New York Times in August 2004.)