NJ Won't Indict in Black DL Death;
Gay Bloggers on HRC Paint Zap
(Defarra Gaymon. Courtesy photo.)
Defarra Gaymon was from the Montclair/Newark area of New Jersey, married to a woman and had four children, worked as an executive and lived in Georgia. He was also a bisexual black man on the down low. A year ago this month, he was shot dead in an undercover gay sex sting by an Essex Country sheriff in Branch Brook Park in Newark.
Gaymon's killer, a detective in the sheriff's office named Edward Esposito, had been involved in three gay public sex acts in 2009 that became violent, according to public records
obtained by Duncan Osborne of Gay City News
.
Earlier this week, we learned no charges will be brought against the law enforcement officer responsible for Gaymon's death, as
reported by Gay City News
:
"Under New Jersey law, a police officer is permitted to use deadly force if he or she has a reasonable belief his life is threatened," the Essex County prosecutor's office said in a June 28 statement. "The grand jury declined to bring any charges against the officer."
According to the statement, Detective Edward Esposito, the sheriff's officer, in plain clothes, had made an arrest in the park while investigating "public sexual activity" and placed that suspect in a police vehicle. He returned without his partner to search for a pair of lost handcuffs. As he was bending down to pick up the handcuffs, Esposito, now 30, was approached by Gaymon, 48, "who was engaged in a sex act at the time." ...
Gay City News was the only such outlet to report on this development,
according to a Google news search
, that revealed the NY Times, the Wall Street Journal, the Newark Star-Ledger, the Atlanta Journal Constitution, among other mainstream news outlets carried stories.
A
Google blog search
shows that only two gay blogs picked up the story, Rod 2.0 and Southern4Life, along with the Edge network of news sites in major urban areas.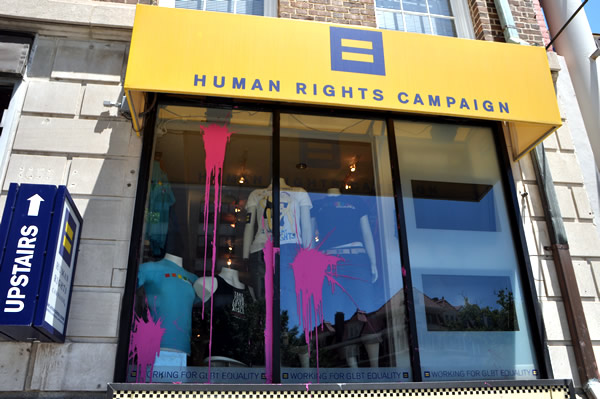 While the failure to indict Esposito or in any way bring justice to Gaymon's death failed to capture the attention of the big gay bloggers and papers such as the Washington Blade, there was more than enough coverage given to the Human Rights Campaign's store in DC suffering a paint zap on its windows this week.
Click
here
for links to the more than a dozen gay reports on the political message delivered to HRC and the property damage done to its Dupont Circle t-shirt and souvenir shop, by an anonymous group calling themselves "The Right Honorable Wicked Stepmothers' Traveling, Drinking and Debating Society and Men's Auxiliary".
It's not that I don't want the Washington Blade, Bilerico, Queerty, JoeMyGod, the New Gay, Fabulous PDX, Just Out, Back2Stonewall, and other news sources to refrain from writing about the urban redecoration of the HRC store. I would just like for them to devote some space on their sites for the outrageous lack of justice in the killing of a black man in a gay cruising spot.